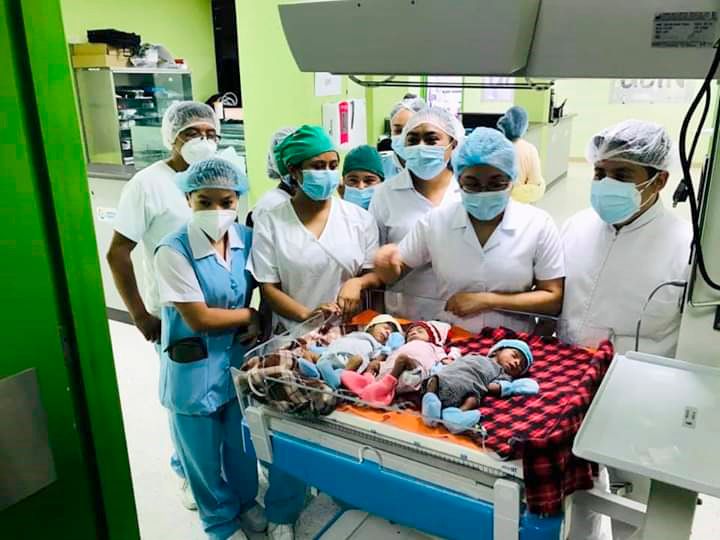 Life finds a way. In a happy moment in difficult times, a couple from San Sebastián Huehuetenango gave birth to healthy triplets. This is a very rare occurrence in a region where in vitro fertilization is not used. It's even rarer that all three triplets are born healthy. The two brothers and one sister--Ruth Betzaida, Darwin Josue, and Osiel Rigoberto Ordóñez--were born on June 11, but the Huehuetenango Regional Hospital waited until last week to announce the births. The birth of these three gifts brought great joy to their parents and to a hospital staff on constant alert fighting the coronavirus. 
Coronavirus in Guatemala by the Numbers
15619 confirmed cases in Guatemala
12045 active cases
623 deaths
2949 recuperated
1350 confirmed cases in Region 2 (Western Guatemala including Huehuetenango)
118 confirmed cases in Huehuetenango
Ixim launches Good Shepherd Assistance Program in Huehuetenango
We're thrilled to announce the launch of our Good Shepherd Assistance Program in four communities in Huehuetenango. The Disciples of the Good Shepherd are using the funds received through our spring campaign to provide assistance to 70 families affected by COVID-19. The Disciples used three criteria to determine whom to help:
Family is facing additional hardship due to COVID-19.
Family is led by a single mother.
Family is not receiving assistance from another source.
Families will be provided with Q3,000 worth of food per month for three months. For comparison, the government assistance program is providing a single cash payment of Q1,200 per adult. Government payment availability is limited to those with official government documents and access to a bank account. It is rare for women in rural communities to have either of these items.
Three cases of families facing additional health issues are being assisted with medicine and direct assistance. 
Assistance is being provided by the Disciples in Huehuetenango, San Juan Ixcoy, La Libertad, and Cuilco. We will be sharing more details on our website, social media, and future updates.
Assistance in San Sebastián Coatán
Though served by the Disciples of the Good Shepherd, the parish in San Sebastián Coatán is not part of the Good Shepherd program due to the success of their community-based assistance program. Each individual community council within the parish has agreed to help families in need within their community. Members of the communities are working with their council to pool resources and ensure their neighbors are safe and secure. Please keep their effort in your prayers.